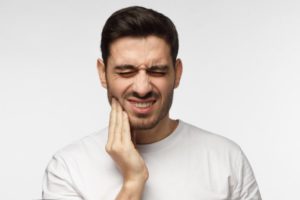 No one wants to get a cavity, but did you know that around 90% of the US adult population has at least one cavity in a permanent tooth? Having a cavity is a problem that should be treated by a dentist, but many people are now turning to ways to get rid of them at home until they can get in to see their dentist. Keep reading to learn about the different ways people use DIY cavity treatments and why you should still see a dentist in Fayetteville.
What Causes Cavities?
Dental cavities are tiny holes in your tooth enamel. They are caused by the combination of sugar and bacteria, which creates acid that eats away at your teeth. These cavity-causing bacteria are found in plaque that builds up without a proper brushing and flossing routine.
Can I Get Rid of Cavities at Home?
The following at-home remedies may help prevent cavities or treat the very early stages by remineralizing the affected area before a cavity can develop. These at-home treatments should not be a substitute for seeing your dentist, but they are ways to keep your affected teeth as healthy as possible until professional treatment.
#1: Sugar-Free Gum
Studies have shown that chewing sugar-free gum can slightly remineralize your enamel. Gum that has xylitol and other special ingredients can reduce bacteria, and it can stimulate saliva flow to wash away plaque and food debris.
#2: Vitamin D
Vitamin D helps absorb calcium and phosphate that strengthens your teeth from the food you eat. Children that consume dairy like milk and yogurt are less likely to get cavities than those who don't.
#3: Brush with Fluoride Toothpaste
Fluoride plays an important role in preventing cavities, so if you or a family member is especially prone to them, you should definitely be using fluoride toothpaste. This natural cavity-fighting mineral can remineralize your teeth and protect them from decay in the first place.
#4: Cut Out Sugar
Probably the most unpopular cavity remedy, avoiding sugar can really help your teeth. Sugar is a leading risk factor of cavities, and doctors recommend that it should only be 10% of your daily caloric intake. If you simply must indulge, try to limit it to one time during the day. Snacking on sugar throughout the day doesn't give your teeth enough time to remineralize before another wave of sugar hits your smile.
When it comes to dentistry, you should never do it yourself. While these at-home treatments are great for preventing cavities, you should always seek professional treatment to take care of any tooth decay. That way, small cavities and decay don't become a bigger issue.
About the Practice
Dr. Marley Rinoldo and Dr. Cindy T. Hong are a team of dentists who take pride in providing quality care to their patients. They've seen cavities get worse if left untreated, which is why they want you to know some oral healthcare tips and why it's important to see a professional. They currently practice at Lyndon Family Dental, and they can be contacted through their website or by phone at (315) 449-0711 for any questions.