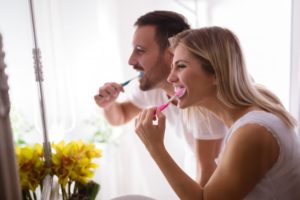 Nobody wants to hear that dreaded phrase, "You have a cavity." A cavity is a small hole that develops in your tooth enamel. It can lead to pain, sensitivity, further decay, and even more serious dental issues. Unfortunately, over 90% of US adults have at least one cavity, making it an increasingly common problem. Thankfully, your dentist in Fayetteville knows which habits and lifestyle choices put you at risk for tooth decay as well as some steps you can take to prevent it in the first place.
What Puts Me at Risk for Cavities?
The main reason why cavities develop is lack of routine brushing and flossing. If you don't have a good oral healthcare routine, plaque will buildup. When plaque interacts with the bacteria in your mouth, it turns into acid, which eats away at your tooth enamel. Your enamel protects the sensitive inside portion of your tooth, which is why cavities can lead to sensitivity and discomfort.
Besides lack of daily oral healthcare, here are some other factors that can put you at risk of cavities:
Tobacco: If you smoke or use tobacco products, you're drying out your mouth. Not only does this promote the growth of bacteria, but it stops your saliva from washing away cavity-causing acid.
Snacking: Do you snack throughout the day? This doesn't give your mouth a break in between meals to recover. One acidic snack can affect your teeth for an hour, so if you eat one snack each hour, your mouth will be prone to cavities all day.
Soda: Carbonated beverages, energy drinks, and sports drinks are all highly acidic, putting your teeth at risk of decay.
Past cavities: If you've had cavities in the past, you're simply going to be more susceptible to them in the future.
How Can I Protect My Smile from Cavities?
In order to keep your smile looking and feeling great, use these cavity-prevention tips:
Brush to clean and remove plaque and bacteria from your teeth.
Floss to remove plaque and food debris from in between your teeth and gumline.
Use a fluoridated toothpaste when brushing. Fluoride is a natural cavity fighting mineral that can strengthen your enamel.
Finish your routine off with a fluoridated mouthwash. Be sure that you pick one without alcohol because it can dry out your mouth.
Now that you know more about the risk factors for cavities, do any of these bad habits sound familiar? If so, contact your dentist for a routine checkup and cleaning. They'll make sure you're smile stays as healthy as possible.
About the Practice
Dr. Marley Rinoldo and Dr. Cindy T. Hong are an expert team of dentists with a passion for quality care. They believe in patient education, which is why they want you to know the best ways to protect your teeth. They currently practice at Lyndon Family Dental, and they can be contacted through their website or by phone at (315) 449-0711 for any questions.