Fayetteville Cosmetic Dentistry
Do you dream of smiling with greater confidence and openness? At Lyndon Family Dentistry, we have services that make your dream a reality. Whether you're hoping for a whiter smile, a straighter smile, or a restored smile, you'll find the help you need at Dr. Rinoldo's Fayetteville, NY dental office.
We happily create treatment plans based on an oral exam and discussion with you. Your plan may include any of the following:
At-Home Teeth Whitening
Have you always wanted to create a whiter smile? At Lyndon Family Dental, we're proud to offer a professional whitening system you can use at your own pace in the comfort of your own home. To brighten your smile, simply line the whitening trays with a small amount of professional whitening gel and wear your trays as directed. Over time, your smile reaches a level of whiteness you've only dreamed about.
Tooth-Colored Fillings
In the past, dentists used metal fillings to treat small to mid-size cavities. Metal fillings are known for their durability, but they're not very attractive. They're also known for cracking over time. This explains why dentists like Dr. Rinoldo rely on a more durable and cosmetically-pleasing alternative today. Tooth-colored fillings provide patients discreet, natural-looking results. They're also more durable and supportive. To learn more about this great cosmetic and restorative service, call or visit our Fayetteville dental office.
Porcelain Veneers
Do you wish you could create a whiter and straighter-looking smile? Using porcelain veneers, that's exactly what you can do. Veneers use thin shells of porcelain to improve the appearance of stained, chipped, cracked, or misaligned front teeth. Placing veneers typically takes at least two visits to our office. Once your treatment is complete you can look forward to enjoying a revitalized smile and enhanced self-confidence.
All-Ceramic Dental Restorations
Dental restorations have been made from a wide variety of materials over the years. Among those materials, some are more natural-looking than others. The most natural-looking of these is ceramic. With your ceramic dental restoration in place, look forward to a stronger, more functional, and more beautiful smile. To learn more about all-ceramic restorations and how they can help you, call our office to speak with a friendly member of our team.
ClearCorrect
A straighter smile is a healthier smile. There are more reasons than just aesthetics to get your teeth aligned, but many people don't like the idea of traditional braces. With ClearCorrect, your ideal solution is here.
Frequently Asked Questions - Cosmetic Dentistry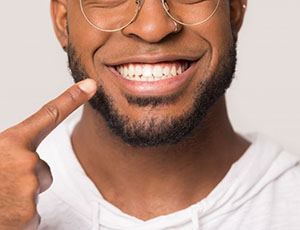 Do you dream of having a set of pearly whites that you can be proud of? As an experienced cosmetic dentist in Fayetteville, Dr. Rinoldo can make that goal a reality! To begin your journey to a more confident smile, it may help to first read through this list of frequently asked questions about cosmetic dentistry. Of course, you can always call our friendly team at Lyndon Family Dental to find out more!
What is the first step for cosmetic dentistry?
Maybe you know that you want your smile to look better, but you have no idea where to start. The process can seem kind of intimidating, after all. Fortunately, the first step is easy: just call our dental office to schedule a consultation. At this appointment, Dr. Rinoldo can discuss the specific ways in which you'd like to improve your smile and your options for making that happen.
Is everyone a candidate for cosmetic dentistry?
Most people who are unhappy with the way their smile looks are eligible for cosmetic dentistry. Generally, the only exception would be if you have oral health issues like gum disease or cavities. In that case, we'd simply need to treat those problems before we can start focusing on the appearance of your teeth.
Is cosmetic dentistry covered by insurance?
Every dental insurance plan is different, but the majority of them do NOT cover cosmetic services, as they are not considered medically necessary. However, there might be exceptions. Certain services, such as all-ceramic dental crowns, provide restorative benefits in addition to cosmetic ones. Therefore, they might qualify for partial coverage from your insurance company.
Our knowledgeable team at Lyndon Family Dental has years and years of experience helping patients maximize their insurance benefits. We're happy to process and file your claims on your behalf. We're even in-network with many of the nation's leading dental insurance providers, including:
Delta Dental
MetLife
Aetna
Cigna
BlueCross BlueShield
Can cosmetic dentistry improve the health of my smile?
As mentioned earlier, some cosmetic dental services can improve more than just the way your smile looks. Dental crowns and veneers can certainly fix imperfect teeth, but they can also shield vulnerable teeth from further damage. Tooth-colored fillings prevent decay from worsening and causing even greater damage to a tooth. ClearCorrect aligners eliminate the dental health risks of crooked teeth, such as TMJ disorder, bruxism, and infections.
What can I do to keep my smile bright and healthy from home?
In general, the better you take care of your oral health, the longer your results will last. Maintaining your bright smile is simple if you brush and floss every day, avoid foods and drinks that stain teeth, and visit Dr. Rinoldo on a regular basis for checkups and cleanings.