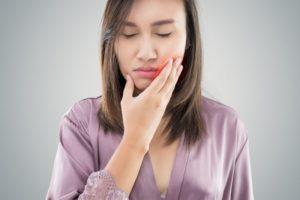 You've heard about it since childhood; yet it is still causing havoc. It is the primary enemy of your dental wellness, and usually, it's this simple yet caustic character that is the catalyst to your oral health woes. We're referring to the cavity, and as you continue reading, your dentist in Fayetteville explains what signs to lookout for that you have one.
Where Do Cavities Originate?
You've probably heard a million times how candy can cause cavities, but let's go a step further; let's explore why sugar encourages cavity development.
It all starts with bacteria, which are always present in your mouth. It just so happens that sugar is their favorite food to consume, and it doesn't just come from candy or dessert items. Many of the foods we consume contain some form of sugar (including starches and simple and complex carbohydrates).
Therefore, if there are any particles left behind, the bacteria rush to them to feed. Over time, they can form into a super-structure called plaque – a clear, sticky substance that can coat the teeth and seep beneath the gumline if not addressed early enough.
How Plaque Affects Your Teeth
Plaque is acidic in nature. Thus, when it is allowed to cover your teeth for a prolonged period of time, it wears down the enamel and cause small holes to emerge called cavities. If not treated, the bacteria will continue boring deeper into the tooth until it reaches the inner chamber. This can cause sharp pain and advanced decay.
Warning Signs of Cavities
A cavity can take from a few months to several years to develop. At times, you may notice some of the following warning signs of the cavity's presence:
Tooth sensitivity
Dark spots on your teeth
Pain when you bite down
Visible holes or pits in your teeth
Spontaneous tooth pain that doesn't seem to have a cause
Usually, before any complex oral health issue reaches a more advanced stage, there will be one or more of these indicators given. The key, then, is to take action and seek the necessary treatment.
How to Address Cavities
Your local dentist can address both the aesthetics and functionality of your smile with a tooth-colored filling. Using a compound resin material that is bonded to your teeth, this method of restoration provides you with a discreet look while leaving you with a durable fixture.
The process starts with you contacting your local dentist to schedule a consultation and then being proactive about receiving the care you need. The result will be excellent oral health for years to come.
About the Author
Dr. Marley Rinoldo earned her dental degree from the SUNY Buffalo School of Dental Medicine. She has since gone on to provide competent and compassionate care for nearly a decade. Dr. Rinoldo enjoys helping patients prevent cavity development, and she also provides restorative dentistry at Lyndon Family Dental. She can be reached for more information through her website.