Root Canals – Fayetteville, NY
Restoring Your Oral Health and Relieving Your Pain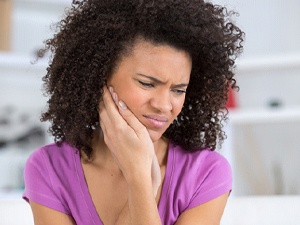 Many patients hear the words "root canal" from their dentist in Fayetteville and immediately panic because they associate the procedure with pain. However, at Lyndon Family Dental, we go out of our way to make sure patients have a stress and pain-free experience that improves their oral health. If you have a severe toothache that's keeping you up at night, it could be a result of a damaging infection that's located deep beneath the visible surface of your tooth. In order to treat the area and relieve your pain, we conduct a root canal to access the infected pulp and sanitize your tooth to prevent further damage from occurring. A majority of patients with treated teeth are able to enjoy them for the rest of their lives with regular maintenance and good dental hygiene!
What is Root Canal Therapy?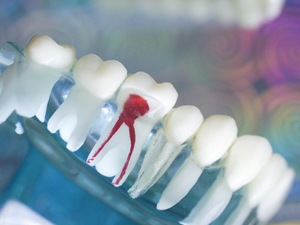 Root canal therapy is more common than many patients realize. This procedure has allowed countless patients to keep their natural teeth as well as restore the function and aesthetic appearance of their smile. At Lyndon Family Dental, we typically recommend them for patients who have tooth infections that have resulted from trauma or severe decay that has been left unaddressed.
Root canals work by removing the infected pulp inside your tooth. Our team will than sanitize, fill, and protect the affected tooth with a dental crown to rebuild the structure and strength of it. At Lyndon Family Dentistry, when you contact our office for an emergency, we try our best to fit you in the same day so you don't have to experience oral pain for longer than absolutely necessary.
Signs You Need a Root Canal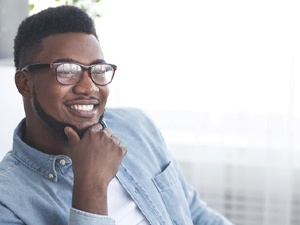 Depending on the severity of your tooth infection, some patients experience a variety of symptoms. Besides a severe toothache, here are some additional signs that you may need a root canal in Fayetteville:
At the first sight of any of these symptoms, contact our office immediately so we can schedule an appointment for you with our emergency dentist as soon as possible.
The Process of Receiving a Root Canal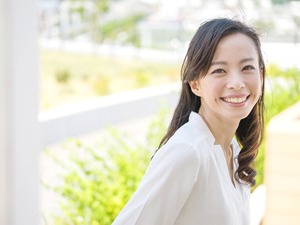 Once we have assessed the damage to your tooth and determined that you need a root canal, we'll schedule the procedure. Our first step will be to make sure you're comfortable. We do this by using local anesthesia to completely numb your mouth. That way, you won't feel any pain or discomfort during your treatment.
Once you're comfortable, we'll make a small access point in your damaged tooth to reach the infected pulp that's causing you pain. Using small instruments, we'll gently remove the pulp and sanitize the inner chamber of your tooth to get rid of harmful oral bacteria. We'll fill the treated portion of your tooth with composite resin to seal it off and rebuild the shape of it. Finally, we'll customize a dental crown to fit over your tooth to restore its strength and function.
Root Canal FAQs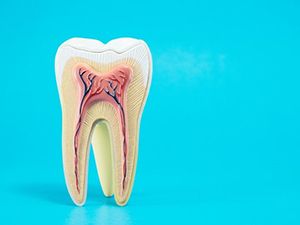 If you have been told by your dentist in Fayetteville that you need a root canal, you might feel a bit nervous. This is understandable. After all, there is a lot of misinformation out there regarding this procedure. However, there is nothing to be afraid of. Root canal therapy shouldn't hurt at all; in fact, it should feel as comfortable as simple filling. To help ease your mind, we've answered a handful of frequently asked questions about root canals.
What Can I Expect After Getting a Root Canal?
A temporary crown will be placed on top of your tooth once the root canal is finished. Until the permanent crown has been placed, we recommend that you avoid chewing with that tooth in order to prevent the crown from breaking or coming loose and leaving the weakened underlying tooth vulnerable to damage. Continue brushing and flossing as normal.
For the first few days after your procedure, you can expect the tooth to feel sensitive or sore. In most cases, this can easily be managed by taking over-the-counter pain relievers, like ibuprofen, as needed. You should be able to resume your normal activities the very next day.
If for some reason you find your discomfort worsening instead of improving after a few days, call your emergency dentist in Fayetteville right away. It might be a sign that the infection is not entirely gone.
What Happens If I Don't Get a Root Canal When I Need One?
It can be tempting to put off getting a root canal, but doing so could actually spell disaster later on. The infection in your tooth could spread to your surrounding teeth, gums, jawbone, and even other areas of your body. You would most likely need to have the tooth extracted in order to prevent additional damage. Replacing a lost tooth often isn't cheap. Plus, a missing tooth could cause your adjacent teeth to shift out of place. Your jawbone could lose density and you could have trouble eating. All in all, it's best to schedule a root canal soon after we recommend it.
My Tooth Doesn't Hurt. Why Do I Need a Root Canal?
Although root canals can often relieve severe toothaches, pain is not always a prerequisite to needing this procedure. Sometimes, an infection damages the tooth's nerve so badly that they cannot send pain signals to the brain anymore. As a result, your oral health is still in danger, even if it doesn't feel like anything is wrong.
How Much Do Root Canals Cost?
This question is impossible to definitely answer. The cost of a root canal can vary greatly from patient to patient. As a rule of thumb, though, root canals cost less for teeth in the front of the mouth than they do for molars. This is because molars have more canals that need to be disinfected, so the procedure will require more time.
Most dental insurance plans consider root canal therapy a major procedure, so they will often cover about 50% of the cost. At Lyndon Family Dental, we are in-network with several insurers, including Delta Dental and Aetna. We also offer third-party financing options and an In-House Membership Plan to make your care more affordable.