Dental Crowns – Fayetteville, NY
Bring Back Your Smile's Beauty & Function
Do you have a noticeable chip in your tooth that makes it hard to smile confidently? Is one of your teeth so broken that you can barely chew with it? Both of these situations can make going through your daily life annoying or inconvenient. Fortunately, Dr. Rinoldo can bring back your smile's beauty and function with a custom dental crown. We even use tooth-colored materials so that no one has to know you got dental work done! To learn more about how dental crowns in Fayetteville can improve your smile and quality of life, we invite you to give us a call today!
What Are Dental Crowns?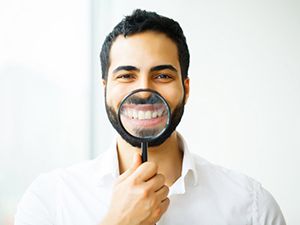 A dental crown is a personalized, tooth-shaped cap that fits snugly over the part of a tooth that is visible above the gums. Crowns are most often used as a restorative treatment to improve a tooth's structure and function.
In the old days, crowns were made of metal alloys that shone a spotlight on your dental work. Thankfully, we typically use more natural-looking materials like porcelain here at Lyndon Family Dental. Porcelain can be personalized to mimic the color of the rest of your smile, creating seamless results.
Do I Need a Dental Crown?
Your dentist in Fayetteville may recommend a dental crown in order to:
Protect a vulnerable tooth from additional damage
Repair a tooth with a cavity that is too large to be treated with a filling alone
Hold together a severely broken or fractured tooth
Conceal a significantly stained, discolored, misshapen, or cosmetically flawed tooth
Support a dental bridge
Protect a tooth that has undergone root canal therapy
Cover a single dental implant
The Dental Crown Process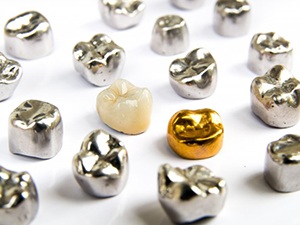 Designing, creating, and placing your dental crown typically only takes two appointments. First, Dr. Rinoldo will prepare your tooth by gently reshaping it. Then, she will take impressions of that area of your mouth to create a mold. That mold is sent to a trusted dental lab. Until the lab has finished crafting your crown, we'll place a temporary to protect your tooth in the interim.
You'll return a few weeks later to swap out your temporary for your permanent crown. Once we make any last-minute adjustments, you're free to enjoy your newly restored smile!
Benefits of Dental Crowns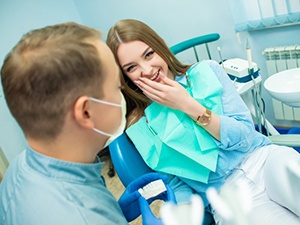 Here are some of the ways that getting a dental crown can benefit you:
Improved chewing – Crowns are durable enough to stand up to practically any food, including tough meats and nutritious fruits and vegetables.
Protection – If an already weak tooth sustains enough damage, it may have to be removed entirely. A crown can protect the tooth and allow you to keep your natural smile intact.
Lifelike results – Each crown is 100% customized for every patient's unique smile. Once your crown has been placed, others shouldn't be able to tell it apart from your other teeth!
Longevity – With the right oral hygiene regimen, your crown can last for a decade or even longer.
Dental Crowns FAQs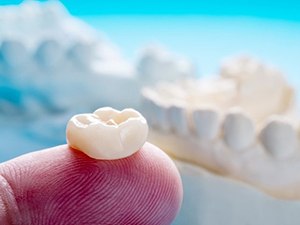 Dental crowns in Fayetteville are a great way to bring back your smile's beauty and function. If Dr. Rinoldo recently recommended that you get one of these reliable restorations, chances are that you have a few questions. Dr. Rinoldo only recommends dental crowns in Fayetteville when there are no other viable treatments and it's in your smile's best interest. She will take the time to answer all of your questions in-depth during your appointment, but in the meantime, here are the answers to some frequently asked questions about dental crowns.
What's the Difference Between a Temporary Crown & A Permanent Crown?
To make room for your dental crown, some enamel will need to be removed from your tooth. A dental crown takes a little while to fabricate, so in order to keep your altered tooth safe and comfortable in the meantime, we'll place a temporary crown.
As their name suggests, temporary crowns are only meant to be worn for a little while, while your permanent crown will last several years. Permanent crowns are typically made of durable dental porcelain, but temporary crowns are usually made of slightly weaker materials like acrylic. A weaker adhesive is also used to secure your temporary crown, since it will need to be removed eventually. Unfortunately, this all means that while temporary crowns will protect your tooth until your permanent crown is ready, you need to avoid hard, crunchy, and sticky foods to keep it safe.
How Do I Take Care of My Dental Crown?
Fortunately, caring for a crowned tooth is similar to taking care of any of your other pearly whites. Remember, the crowned tooth can still get cavities if you don't take proper care of it! Brushing and flossing every day can prevent bacteria from harming the tooth underneath the crown. Remember to also visit your dentist in Fayetteville twice a year for routine checkups and cleanings. Lastly, avoid biting into anything too crunchy or sticky to prevent your crown from breaking or coming off.
How Much Do Dental Crowns Cost?
There is no set cost of dental crowns in Fayetteville because the specifics of each treatment can vary greatly. During your initial consultation, our team can provide you with a personalized cost estimate and discuss the fees associated with your treatment, as well as your payment options, including dental insurance, third-party financing, or our in-house membership plan.
Keep in mind that even if you're worried about the cost of a dental crown, paying for it now will save you money later. A crown shields your tooth from further damage that would otherwise require a root canal, or even an extraction and replacement. These procedures all cost more than a crown alone would. Make a wise investment in your smile by getting a crown as soon as Dr. Rinoldo suggests it!
Does Dental Insurance Cover Dental Crowns?
Although every policy differs, most dental insurance plans offer partial coverage (usually 50% to 80%) for dental crowns due to their restorative benefits. Our team is happy to look over your insurance plan and help you maximize your benefits. We're even in-network with many popular providers, including Delta Dental, BlueCross BlueShield, and Aetna.
If you don't have insurance, don't worry. We can help you apply for low-interest financing through CareCredit. Alternatively, you can sign up for our Lyndon Family Dental Membership Plan. For a flat yearly fee, you'll receive FREE preventive care as well as significant discounts on many other services, including crowns.