Full & Partial Dentures – Fayetteville, NY
Complete Your Smile with These Realistic-Looking Restorations
Are you missing multiple or all of your teeth? Get custom-crafted restorations that resemble your natural teeth and gums at Lyndon Family Dental. When you leave gaps in your smile, it won't just cause your self-esteem to spiral, but it'll also impact your oral health and the alignment of your remaining teeth. With a brand-new set of full or partial dentures in Fayetteville, our team can restore your beautiful smile and overall health. You can take the first step in the process by contacting us to schedule a consultation with Dr. Marley Rinaldo!
What's the Difference Between Full and Partial Dentures?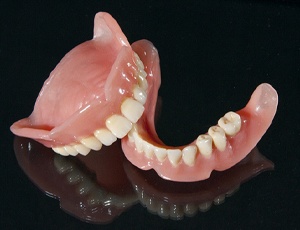 Dentures are removable custom-crafted restorations created to replace missing teeth and oral tissues. The two types of dentures available to you are full and partials. If you're missing all of your teeth, you'll need a full set of dentures. If you're only missing some of your teeth, partial dentures will improve your chewing and speaking and keep your remaining teeth aligned.
Dentures rely on suction to remain in your mouth, but removable partials are typically connected to a metal framework that's custom made to hold the denture in position without impacting your remaining teeth.
How Do I Maintain My Dentures?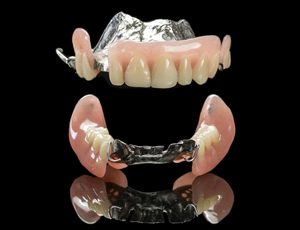 Maintaining your dentures properly can help keep them clean, maintain your oral health, and ensure that they keep their aesthetically pleasing appearance. For the best dental care, follow these tips:
Rinse your dentures with water each time you eat to remove food particles.
Carefully handle your dentures so they don't bend or get damaged.
Clean your mouth after each time you remove your dentures to prevent plaque and bacteria transfer.
Brush your dentures with a soft-bristled toothbrush and clear antibacterial soap each day.
Soak your dentures in water or a denture-soaking solution overnight.
See your dentist if your dentures feel loose.
Remember to attend your routine checkups and cleanings every six months so we can make sure your mouth is in great shape. We can also address any concerns about the fit, look, and feel of your dentures that you may have.
Why Should I Replace My Teeth?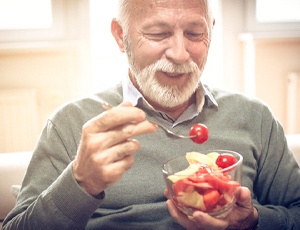 Replacing your teeth may seem like a purely aesthetic solution, but it can also benefit your oral and overall health. When you leave gaps in your mouth, your remaining teeth will begin to shift to fill them in. This can mess with the alignment of your natural teeth and create additional hard-to-reach nooks and crannies that can collect plaque, tartar, and food debris.
What Are Implant-Retained Dentures?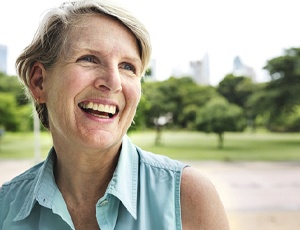 If you're looking into getting dentures, they can also be retained by surgically placed implants for a more permanent and stable solution. Whether you're looking to replace one, or multiple teeth, dental implants can provide you with a tried and true long-lasting alternative to traditional restorations. To find out if you're a candidate for this procedure, contact our office in Fayetteville!
Replacing missing teeth with specially crafted restorations made specifically for your mouth can boost your confidence and keep your oral health in great shape. Dr. Rinaldo is passionate about providing her patients with healthy and great-looking smiles they can be proud of. We've got a compassionate team of professionals waiting to answer all your questions about missing teeth, so what're you waiting for?