FULL & PARTIAL DENTURES – FAYETTEVILLE, NY
Complete Your Smile with these Realistic-Looking Restorations
Are you missing multiple or all of your teeth? Get custom-crafted restorations that resemble your natural teeth and gums at Lyndon Family Dental. When you leave gaps in your smile, it won't just cause your self-esteem to spiral, but it will also impact your oral health and the alignment of your remaining teeth. With a brand-new set of full or partial dentures in Fayetteville, our team can restore your beautiful smile and overall health. You can take the first step in the process by contacting us to schedule a consultation with Dr. Marley Rinoldo!
Who Is a Good Candidate for Dentures?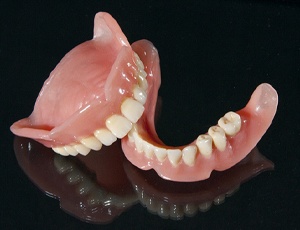 Dentures are a straightforward and affordable way to rebuild one's smile. You may be a good candidate for dentures if you are missing several teeth or an entire row. To determine if this type of restoration is the ideal solution for you, Dr. Rinoldo will conduct a thorough dental exam. If you currently have cavities or gum disease, we will treat those issues on the way to restoring your smile with dentures.
Types of Dentures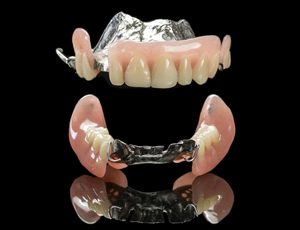 There are several types of dentures that address different dental needs. Depending on your unique situation, Dr. Rinoldo will recommend one of the following options.
Partial Dentures
If you're only missing some of your teeth, partial dentures will improve your ability to chew and speak and keep your remaining teeth aligned. The gum-colored base and custom prosthetic teeth are designed to blend in seamlessly with your existing smile. Removable partials are typically connected to a custom-made metal framework that holds the denture in position without impacting remaining natural teeth.
Full Dentures
If you're missing all of your teeth, you can likely benefit from a set of full dentures. This popular restoration combines a discreet, gum-colored base with lifelike prosthetic teeth. Unlike partials, full dentures are usually held in place with natural suction, denture adhesive, or a mixture of both.
Implant Dentures
Dentures can also be retained by surgically placed implants for a more permanent and stable solution. Whether you're looking to replace a few teeth or an entire arch, dental implants can provide you with a reliable, long-lasting alternative to traditional restorations. To find out if you're a candidate for this procedure, contact our office in Fayetteville!
The Benefits of Dentures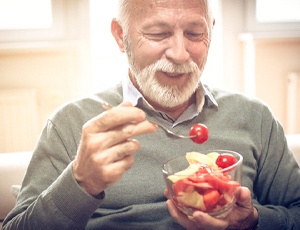 Replacing your teeth may seem like a purely aesthetic decision, but it can also benefit your oral and overall health. When you leave gaps in your mouth, your remaining teeth will begin to shift to fill them in. This can mess with the alignment of your natural teeth and create additional hard-to-reach nooks and crannies that can collect plaque, tartar, and food debris. Dentures can prevent bite problems and make it easier to clean your teeth. Other benefits of dentures include:
Cost-effective.
Completely customized for each patient.
Can last for 10 years with proper care.
Preserve your youthful face shape.
Replacing missing teeth with custom dentures can boost your confidence and keep your oral health in great shape. An experienced dentist in Fayetteville, Dr. Rinoldo is passionate about providing her patients with healthy and great-looking smiles they can be proud of. If you are ready to reclaim your confident, complete smile, do not hesitate to contact our office!
Denture FAQs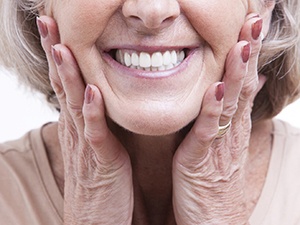 When you're looking into getting dentures to replace multiple teeth, chances are that you're in the middle of a very stressful and mentally taxing situation. Our helpful team wants to make the process of getting new teeth as easy as possible for you, which is why we've created this list of frequently asked questions about dentures in Fayetteville. If you don't find what you're looking for here, you can call our office today to ask or set up a consultation.
How Long Will You Have to Wait to Get Dentures After Your Teeth Have Been Extracted?
It depends on how many teeth were removed and how much time your mouth requires to heal. The average wait time between an extraction and receiving dentures is about six to eight weeks, but this is not set in stone; we'll give you an estimate based on your situation after the extraction procedure. The wait is necessary so that the gums can heal properly. Sometimes immediate dentures can be placed right away, but they'll need to be switched out eventually once the shape of your jawbone changes during the implant process. Note that if you're getting implant dentures, then you have to wait three to six months for the implants to join with your jawbone before new teeth can be attached.
Will It Hurt to Get Dentures?
When teeth are extracted before dentures are placed, you'll most likely experience some soreness while your mouth is healing. It will last for a few days, but it can be reduced with pain medication. After you've received your denture, your gums may feel irritated for a while. This sensation will fade over time as your mouth adjusts, although for some people this can take months. If you experience severe pain at any point, call our office immediately for help.
Is It Hard to Talk with Dentures?
Dentures are not exactly the same as your natural teeth, so your mouth will have to "re-learn" how to speak with them properly. You may speak with a slight lisp for the first few weeks of wearing dentures; you might also occasionally find that your words come out muffled. To shorten the adjustment process, try reading out loud when you have the chance. If your dentures are a little unstable, a small amount of adhesive can keep them in place and help make your speech a bit clearer.
Can I Sleep with My Dentures?
It's possible to sleep with your dentures, but it's better to take them out instead. Dentures put a lot of pressure on the gum tissue and jawbone that support them, so by taking out your prosthetic teeth, you give the affected tissues in your mouth a chance to heal. Your dentures need to stay moist while they're out of your mouth, or else their shape might change. Make sure to place them in a glass of denture cleaning solution every night; not only will it keep your teeth moist, but it will also kill harmful bacteria.