FULL & PARTIAL DENTURES – FAYETTEVILLE, NY
Complete Your Smile with these Realistic-Looking Restorations
Are you missing multiple or all of your teeth? Get custom-crafted restorations that resemble your natural teeth and gums at Lyndon Family Dental. When you leave gaps in your smile, it won't just cause your self-esteem to spiral, but it will also impact your oral health and the alignment of your remaining teeth. With a brand-new set of full or partial dentures in Fayetteville, our team can restore your beautiful smile and overall health. You can take the first step in the process by contacting us to schedule a consultation with Dr. Marley Rinoldo!
Who Is a Good Candidate for Dentures?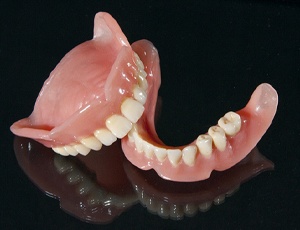 Dentures are a straightforward and affordable way to rebuild one's smile. You may be a good candidate for dentures if you are missing several teeth or an entire row. To determine if this type of restoration is the ideal solution for you, Dr. Rinoldo will conduct a thorough dental exam. If you currently have cavities or gum disease, we will treat those issues on the way to restoring your smile with dentures.
Types of Dentures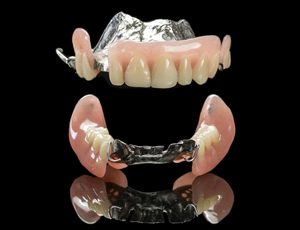 There are several types of dentures that address different dental needs. Depending on your unique situation, Dr. Rinoldo will recommend one of the following options.
Partial Dentures
If you're only missing some of your teeth, partial dentures will improve your ability to chew and speak and keep your remaining teeth aligned. The gum-colored base and custom prosthetic teeth are designed to blend in seamlessly with your existing smile. Removable partials are typically connected to a custom-made metal framework that holds the denture in position without impacting remaining natural teeth.
Full Dentures
If you're missing all of your teeth, you can likely benefit from a set of full dentures. This popular restoration combines a discreet, gum-colored base with lifelike prosthetic teeth. Unlike partials, full dentures are usually held in place with natural suction, denture adhesive, or a mixture of both.
Implant Dentures
Dentures can also be retained by surgically placed implants for a more permanent and stable solution. Whether you're looking to replace a few teeth or an entire arch, dental implants can provide you with a reliable, long-lasting alternative to traditional restorations. To find out if you're a candidate for this procedure, contact our office in Fayetteville!
The Benefits of Dentures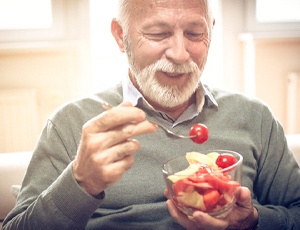 Replacing your teeth may seem like a purely aesthetic decision, but it can also benefit your oral and overall health. When you leave gaps in your mouth, your remaining teeth will begin to shift to fill them in. This can mess with the alignment of your natural teeth and create additional hard-to-reach nooks and crannies that can collect plaque, tartar, and food debris. Dentures can prevent bite problems and make it easier to clean your teeth. Other benefits of dentures include:
Cost-effective.
Completely customized for each patient.
Can last for 10 years with proper care.
Preserve your youthful face shape.
Replacing missing teeth with custom dentures can boost your confidence and keep your oral health in great shape. An experienced dentist in Fayetteville, Dr. Rinoldo is passionate about providing her patients with healthy and great-looking smiles they can be proud of. If you are ready to reclaim your confident, complete smile, do not hesitate to contact our office!