Dental Bridge – Fayetteville, NY
Replace A Missing Tooth By Bridging the Gap
Sometimes, despite our best efforts at prevention, our patients still experience tooth loss. Thankfully, regardless of whether it was due to genetics, cavities, gum disease, or an accident, we have great solutions such as a dental bridge in Fayetteville. This type of dental restoration can be supported by dental implants or your own natural teeth. If you're missing a tooth and want to know if a bridge is right for you, give us a call to schedule a consultation with Dr. Rinoldo. She's been restoring smiles for many years and will create the perfect treatment plan for you!
What Is a Dental Bridge?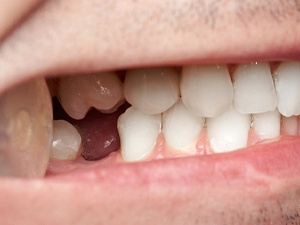 Natural teeth consist of two main parts: roots and crowns. When a tooth is missing, a bridge replaces the crown portion to restore the function and appearance of a full smile. Traditionally, a bridge works by connecting a replacement crown in the middle to the two natural teeth on either side. First, these teeth will have dental crowns put on that will fuse to the crown in the middle, and need to be healthy so they can provide solid support.
Parts and Types of Dental Bridges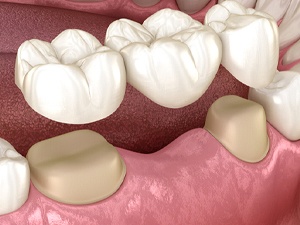 A bridge has two main parts: a pontic, which is the prosthetic crown that replaces the missing tooth, and the abutments that serve as anchors on either side. As mentioned earlier, the abutments can either be your own teeth or dental implants. There are various types of bridges:
Standard - This type of bridge has two abutments on either side of the pontic.
Maryland bridge - For a Maryland bridge, the pontic is simply cemented to the adjacent teeth, without the need to put dental crowns on them. Since this option doesn't alter the adjacent teeth, it preserves more of your own natural tooth structure. A Maryland bridge is a popular choice for a missing front tooth because it doesn't need to withstand strong chewing forces.
Cantilever bridge - This option can be used when there's only a single natural tooth on one side to serve as an abutment. However, it's not usually recommended for a back tooth because it may not provide adequate chewing strength.
How To Care For Your Dental Bridge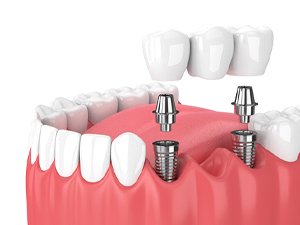 A bridge will last an average of 10-15 years with proper care. As a dentist in Fayetteville with your long-term oral health in mind, Dr. Rinoldo will give you personalized maintenance tips to use at home.
A bridge is non-removable and the area underneath needs to be gently but thoroughly cleaned each day. Otherwise, plaque and food debris will accumulate that can cause tooth decay on the two abutment teeth. Although these teeth will have dental crowns on them, there's still a small amount of exposed enamel that's susceptible to a cavity. Implant-retained bridges don't have this issue, but the gums still need to be kept clean and healthy for the long-term success of the implants.
First, be sure to brush all around the gumline of a bridge at least twice a day. To clean underneath the bridge, you'll need special hygiene aids from the store such as a floss threader or proxy brush. Some patients do a better job with an oral irrigator. Finally, it's helpful to swish vigorously with a mouthwash that has both anti-bacterial and anti-cavity (fluoride) benefits. Look for an all-in-one formula and use it twice a day for added protection for your bridge.