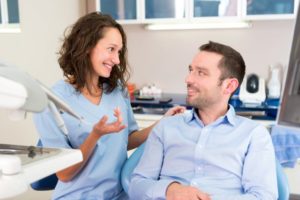 Any time you invest in something, you likely take a significant amount of time to research all possible options, understand potential outcomes, and read reviews prior to committing. When it comes to your smile, it should be no different! Whether it's straighter teeth or stain removal you're looking for, there are many options when it comes to cosmetic dentistry. Here are some tips to help you find the dentist who can help you achieve the smile of your dreams.
How to Find the Right Cosmetic Dentist for Your Smile
There are zillions of options when it comes to cosmetic dentists, and if you're searching for a new dental home, it can seem overwhelming. Fortunately, there are some ways you can streamline the process and make it easier on yourself:
Ask for Recommendations
There's a good chance you know at least one person who has had cosmetic dental treatment. If you are impressed by the work they had done, ask them who performed it. This is a sure-fire way to build confidence that you will be in good hands.
Don't Be Afraid to Test the Waters
Before you receive cosmetic dental treatment, your dentist will want to sit down and chat with you in order to get to know you and to understand your goals for your smile. If the conversation doesn't leave you feeling excited and assured about the procedure, don't be afraid to try a different practice.
Know What to Expect
During your initial meeting, your dentist will probably take the time to tell you about their practice and explain all of the details of what your cosmetic dental treatment will involve. It's up to you to make sure you're taking notes and paying attention so that there aren't any surprises.
Be Prepared with Questions
A cosmetic dental procedure that is new to you can be daunting if you don't know much about it. Take time to jot down a list of questions to ask your dentist so that you can be informed and feel more at ease throughout your treatment.
Make Sure That You Feel Listened To
One of the most important things that a dentist can do for his patients is to make sure they feel heard. Everyone's needs are different, and your goals for your smile are unique to you. Before making a big investment, you will want to make sure that your dentist has listened to all of your needs and that they truly care about helping you achieve your ambitions.
Regardless of what cosmetic dental procedure you're considering, it's important that you feel safe, confident, and content regarding your decision on which practice to go with. Make the most out of your initial consultation with your dentist so that you can know that your smile will be in the best of hands!
About the Practice
If you're looking to receive the highest quality of cosmetic dental treatment at a practice where you'll feel right at home, then Dr. Marley Rinoldo at Lyndon Family Dental is just the dentist for you! She believes that everyone should have the opportunity to have a beautiful smile, and she will stop at nothing to make sure that your unique needs are met. She has undergone years of training and education, making her practice the best in Fayetteville. Are you ready to talk about transforming your smile? Visit us online or call (315) 449-0711.