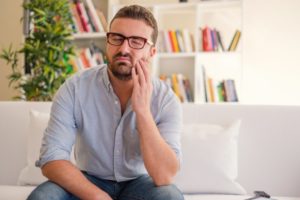 Dental emergencies always seem to strike at the least convenient of times. Whether you wake up with an excruciating toothache or you fall and break your tooth on the sidewalk, it's imperative that you visit your emergency dentist in Fayetteville as soon as possible after the incident occurs. But wait, what happens then? Having an idea of how your dentist might handle the situation may help alleviate some of your stress. Here are four of the most common treatments they may use to heal your smile.
Tooth-Colored Fillings
Oftentimes, a toothache or severe sensitivity is the result of a cavity, which is most often repaired with a tooth-colored filling. Your dentist will use a putty-like composite resin material that can be shaded to match the exact color of your teeth. Once the filling has been placed, not only will your tooth be good as new, but the results should look perfectly natural.
Ceramic Dental Crowns
A dental crown is a tooth-shaped cap designed to save a vulnerable tooth from needing an extraction by shielding it from further damage. This restoration is personalized to recreate the exact size, shape, and color of your tooth, improving its appearance and function while being indistinguishable from the rest of your smile.
Root Canal Therapy
In some cases, a toothache is caused by a cavity or infection that has reached the inner chambers of the tooth. To prevent the infection from spreading, your dentist in Fayetteville can perform a root canal. During this procedure, the infected tissue is removed and replaced with a synthetic material. This is the best method of eliminating the infection and preserving as much of your tooth's natural structure as possible.
Tooth Extraction & Replacement
Usually, your dentist will only extract a tooth as a last resort. If there is no way of saving it, the dentist will ensure you're comfortable before removing the problem tooth. Once you've recovered, they can talk to you about your options for replacing the tooth, such as dental implants or a dental bridge.
Knowing how to handle dental emergencies and what to expect at your appointment can take some of the stress out of these worrisome situations. If you suspect you're having a dental emergency, don't hesitate to call your dentist right away!
About the Author
No matter what kind of dental emergency you're experiencing, our skilled and friendly team at Lyndon Family Dental in Fayetteville, NY has the experience and technology you need. Dr. Marley Rinoldo is dedicated to helping her patients achieve the happy, healthy smiles they deserve, which is why she offers all of the services listed above and more to help her patients heal their smiles after emergencies. If you're experiencing a dental emergency, don't hesitate to contact her via her website or (315) 449-0711.