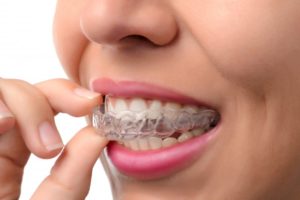 If you are not satisfied with the appearance of your smile, it greatly affects your confidence and self-esteem. Whether you are a teenager trying out for the school play, or an adult presenting their product to a client, lack of confidence affects your performance. The good news is that your cosmetic dentist in Fayetteville has excellent solutions for aligning your teeth with efficiency and discretion. Here's what you should know.
Invisible Braces
Invisalign and Clear Correct are clear aligner systems that make it possible for you to straighten your teeth without anyone noticing since they are virtually invisible. The aligners should be worn at least 22 hours per day to ensure that you achieve the best results. They are comfortable to wear and don't interfere with your normal activities since they fit snugly against your teeth.
Another benefit of Invisalign and Clear Correct is that the aligners are removable. This means that you can take them out for meals and there are no restrictions to your diet throughout your treatment. Brushing, flossing, and maintaining an excellent oral hygiene routine is also easy with Invisalign in Fayetteville.
Orthodontic Treatment for Kids
Invisible braces are a great option that many teens are turning to these days. Not only are they discreet, they're also very efficient as most cases can be completed in about 12 to 18 months. They also require fewer visits to your dentist because you can change your aligners out at home. This makes it easy to fit treatment into any teen's busy schedule.
Orthodontic Treatment for Adults
Perhaps you never had the braces you needed as a child? Or maybe you did have braces but were lax about wearing your retainer? Whatever your situation is, Invisible braces can probably help.
The first step is a consultation with your dentist in Fayetteville to determine if this type of treatment is right for your needs.
Some things to consider as an adult orthodontic patient are:
Do you have sufficient bone to support tooth movement? Some adults suffer from bone loss as a result of gum disease or other issues.
Do you have complex bite issues?
Are the roots of your teeth strong and healthy? Some adults suffer from root resorption (or loss), which can make it riskier to move teeth.
Are you willing to be compliant and wear your aligners for at least 22 hours per day? Compliance is the key to achieving the best results.
These are the factors you and your dentist will discuss during your Invisalign consultation.
The important thing to remember is that it's never too late to enjoy the benefits of a beautiful smile! Give your dentist a call today to schedule your consultation.
About the Author
Dr. Marley Rinoldo and Dr. Cindy T. Hong complete the talented team of dentists at Lyndon Family Dental. Our practice understands that two heads are better than one because it allows us to offer comprehensive services like invisible braces to our patients. You will also appreciate the warm and caring manner in which treatment is delivered.
To contact Lyndon Family Dental, you can call us at 315-449-0711 or reach us through our website.