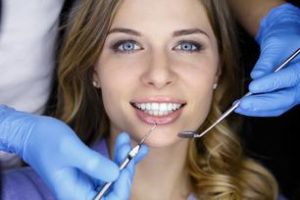 Seeing your dentist in Fayetteville before the end of 2018 is a great way to get the most benefit from your dental coverage. Even basic services like an oral checkup and cleaning can catch problems in their earliest stages and prevent serious trouble later.
Seven Benefits of Seeing Your Dentist Sooner Rather Than Later
Here are seven smart reasons to see your dentist before New Year's rolls around:
To get your money's worth. Like other forms of insurance, dental coverage costs the same whether you use it or not. It's true that some services may have some co-pays in addition to your premiums. But these are usually quite reasonable. Plus, certain forms of treatment, such as a basic checkup and teeth cleaning, entail no added expense.
To save money on overlapping procedures. For example, let's say you intend to get a dental implant. This usually requires multiple treatments, all of which come with their own fees. But most types of coverage have annual maximums. Getting some of these appointments knocked out before the new year will allow you to minimize your out-of-pocket costs.
To avoid deductibles. Most forms of coverage come with an annual deductible. If you have already made progress towards this amount, then there's no reason to wait until the deductible period begins again. Otherwise you'll end up paying more than you have to.
To benefit from FSA funds. If you pay into a flexible savings account (FSA), then you may end up forfeiting your contribution if you fail to use it before year's end.
To avoid fee increases. Most of us see our premiums and co-pays go up every year. This means that a procedure which costs you, say, $50 now might cost you substantially more in 2019.
To save you from a holiday-spoiling surprise. Parties, traveling, and visiting with loved ones are part of most people's end of the year plans. But nothing puts a damper on holiday fun quicker than a toothache. A routine checkup can catch treatable problems before they turn into painful emergencies.
To set your mind at ease. Using your dental coverage before the year ends gives you one less thing to worry about, allowing you to concentrate on enjoying the season.
What to Expect from a Routine Dental Visit
Recent advances in dental medicine allow today's patients to enjoy a level of comfort and service undreamt of just a few years ago. Here's what you can expect during a regular appointment:
Your dentist will perform a complete examination. The purpose of this step is to catch potential problems such as cavities in their earliest stages. One particularly important phase of the exam is an oral cancer screening, which can literally make the difference between life and death.
Either your dentist or dental hygienist will clean your teeth. The purpose for this step is to remove built up layers of plaque and tartar before they turn into periodontal disease.
A staff member will review your records and make sure your insurance information is up-to-date. This is important for avoiding any unforeseen issues with your coverage.
Your dentist may also perform other services, such as applying anti-cavity sealant to your teeth to protect them from decay.
Maybe you currently lack a regular dentist. If so, then you'll find the answer to the question "is there a dentist near me" by performing a simple online search. So make your coverage count by setting up your next dental appointment today. When it's over, you'll feel better for having taken this important step.
About the Author
Dr. Cindy Hong studied dentistry at the University of California at San Francisco, where she focused on learning patient-centered minimally-invasive treatment techniques. You can reach her office online or by calling (315) 449-0711.