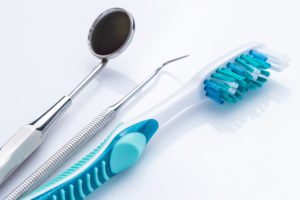 Your wellness is a top concern as we fight the COVID-19 pandemic currently impacting the United States. Although you're practicing social distancing and wearing personal protection when in public, is there more you could be doing? Your dentist in Fayetteville recommends a few simple changes to your oral hygiene routine at home to keep your mouth and body healthy to prevent the spread of COVID-19.

How Does COVID-19 Spread?
We learn more and more about COVID-19 every day. While we wait for the results of new studies to emerge, we already know the virus is spread from the coughs and sneezes of infected people. It might also spread by touching contaminated surfaces.
Since the virus can also be found in your saliva, it's normal to assume the virus can be spread by your oral hygiene habits and the products you use, like your toothbrush. In some cases, you can even transmit the COVID-19 to your mouth after coming into contact with it elsewhere.
How Can I Stop the Spread of COVID-19?
You can help combat the virus by using a few easy dental tips during the COVID-19 crisis.
Social distance your toothbrush.
If there is more than 1 person in your home, you likely store your toothbrush in a communal location. While this is convenient, it's best to store them in individual holders and avoid side-by-side storage.
Store your toothbrush correctly.
You might think a tightly sealed toothbrush holder is best to keep it clean; however, dark and moist places are the perfect breeding ground for bacteria. Instead, store it upright in a location that's well ventilated.
Wash your hands before brushing and flossing.
The Centers for Disease Control and Prevention recommend you frequently wash your hands for at least 20 seconds. It's wise to wash your hands before brushing your teeth. This prevents you from transmitting bacteria and viruses to your toothbrush and floss.
Disinfect your toothbrush.
You should disinfect your toothbrush often to kill bad germs. Soak your brush in a 50/50 mixture of water and hydrogen peroxide regularly.
Change your toothbrush.
It's recommended you change your toothbrush every 3-4 months or whenever your bristles are worn, whichever comes first. It's also important to get a new toothbrush if you've recently been ill.
Keep Your Smile Healthy
Besides staying home, you can help stop the spread of COVID-19 with simple changes to your oral hygiene habits to have a lasting impact on your health.
About Dr. Marley Rinoldo
Dr. Marley Rinoldo earned her dental degree from the SUNY Buffalo School of Dental Medicine. She strives to help her patients achieve optimal oral health using the latest solutions in dentistry. With patient safety always being a top priority, Dr. Rinoldo uses strict protocols to combat COVID-19. If you need an appointment or what more at-home tips, contact our office today.