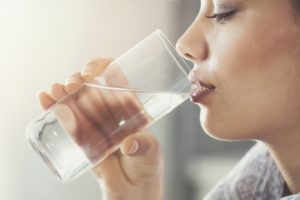 An irritated, dry, and parched mouth is an uncomfortable situation that most everyone has experienced at some point in their life. On most occasions, a dry mouth will naturally clear up on its own without any complications. However, a chronic lack of saliva can increase your risk of cavities, encourage gum disease, or even indicate a larger underlying health concern. Read on as your Fayetteville dentist explains what could be causing your mouth to dry up and what you can do to treat it.
What Causes a Dry Mouth?
There are many factors that can result in a lack of saliva. The most likely cause behind that dry feeling in your mouth changes as you age:
In children: Excess fluid loss, breathing through the mouth, certain medical conditions like diabetes and Sjogren's syndrome.
In adults: Dehydration, stress, anxiety, asthma, cigarettes, alcohol use, allergy medications, and snoring.
In older adults: Medications for high blood pressure, mood disorders, and certain pain relievers as well as health issues like rheumatoid arthritis, cancer, and Alzheimer's disease.
What are the Dangers of a Dry Mouth?
A lack of saliva can cause irritating side effects like bad breath, cracked lips, and inflamed gums. However, a dry mouth can also cause your teeth to become weaker, since saliva helps them absorb key minerals like calcium and fluoride. This leaves them more susceptible to decay, especially without any saliva to wash away the accumulating plaque. A dry mouth also allows bacteria to grow rapidly, which can lead to gum disease, oral infections, and even respiratory infections.
How Can a Dry Mouth Be Treated?
Thankfully, there are plenty of easy steps you can take at home to prevent dry mouth and protect your oral health:
Suck on sugar-free mints or chew sugar-free gum to naturally encourage saliva production.
Drink plenty of water throughout the day to immediately relieve symptoms and stay hydrated.
Avoid alcoholic and caffeinated drinks, which dehydrate both you and your mouth.
Eat more crunchy raw vegetables like cucumbers, bell peppers, and celery, which contain high amounts of water and scrub away lingering food particles.
Talk to your dentist about your concerns. They can help you identify the underlying cause and suggest proper treatments and medications.
Even though plenty of things can cause a dry mouth, it should never be a regular part of your life. Try these tips and see your dentist regularly to protect your healthy, shining smile.
About the Author
At Lyndon Family Dental in Fayetteville, NY, we are focused on preventing issues before they happen. Dr. Marley Rinoldo encourages all her patients to get their dental checkups twice a year in order to spot and stop issues like chronic dry mouth, cavities, gum disease, and many more. She'd be happy to help you combat your dry mouth, as well as identify and promptly treat whatever is causing it. If you'd like to learn more, she can be contacted via her website or at (315) 449-0711.